We offer local ingredients and seasonal ingredients that you can feel Iwakuni.
~ 【summer】Kaiseki cuisine example ~

~【autumn】Kaiseki cuisine example~
~【spring】Kaiseki cuisine example~

From October to March only "Filling plan"
Iwakuni, Shisen Restaurant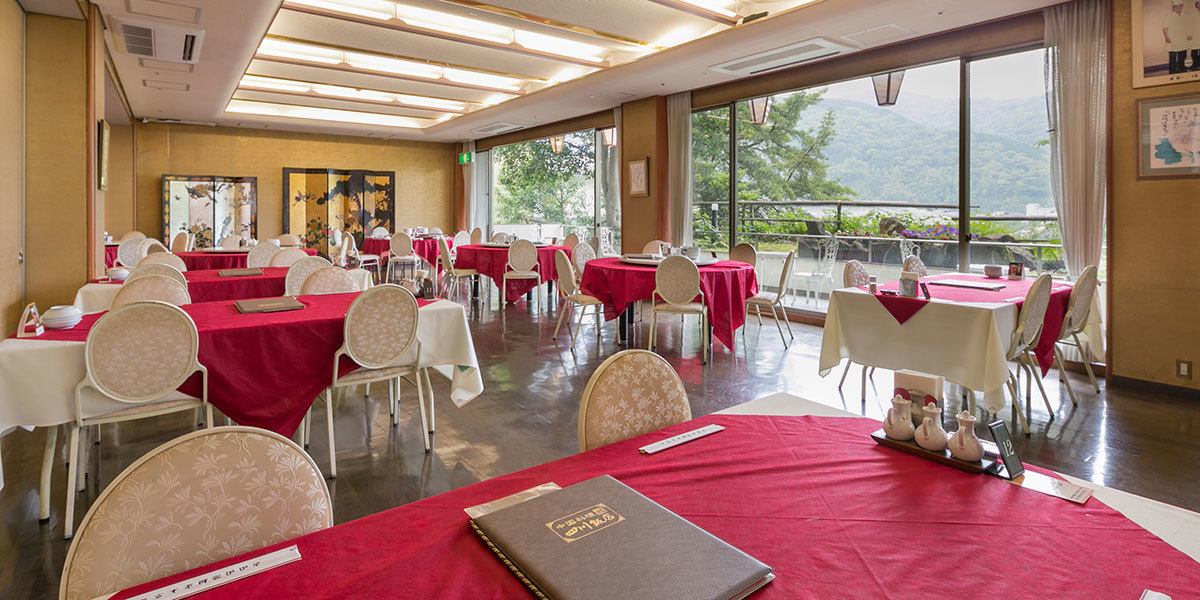 Please enjoy authentic Shisen cuisine with pillared flavor.

Iwakuni Kokusai Kanko Hotel 3F, 100 seats
Weekday: 11 o'clock to 14 o'clock(LO 13: 45 minutes)·17 o'clock to 21(LO 20: 45 minutes)
Sunday and holidays: 11 am to 3 pm(LO 14: 30 minutes)·17 o'clock to 21(LO 20: 30 minutes)
Kintai Bridge DINING Sakura, CHERRY BLOSSOMS
Notes on Allergic Response
Thank you very much for using Iwakuni Kokusai Kanko Hotel. Regarding the provision of cuisine to customers who have allergies, we will respond to the following when there is an offer in advance. Although it is possible to exclude raw materials themselves with regard to individual allergy such as "crab" "shrimp"
Component allergens such as "wheat" "soybean" "egg" are also included in common seasonings,
We can not completely eliminate everything completely. We are currently unable to deal with cooking staff dedicated to allergy and dedicated cooking space, dedicated cooking utensils, fixtures etc. Therefore, since cooking utensils and fixtures are generally washed and used, it is impossible to completely remove the components (trace amounts of allergens) adhering to them, please understand.

Based on the above, we are displaying 7 specific raw materials.
(For details, please contact the person in charge)

Due to business restrictions, it is difficult to fully satisfy your request, and susceptibility to allergies varies among individuals, so if you are hoping for severe allergy customers with our allergy compatible food, for safety Please also be sure to contact your local doctor.